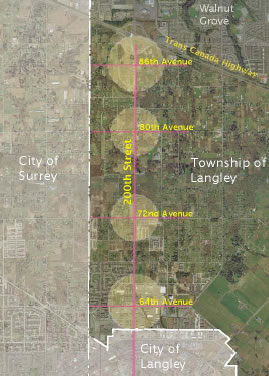 node STUDY AREA: 200th ST, LANGLEY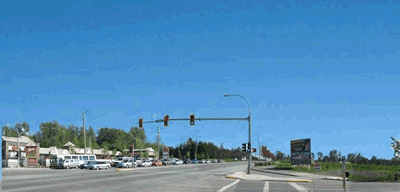 GOOD & PLENTIFUL jobs CLOSE TO HOME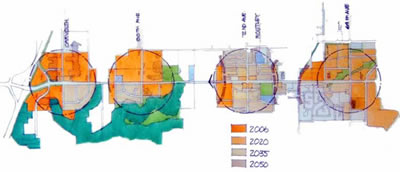 DIFFERENT housing TYPES


MIXED USE corridors ACCESSIBLE TO ALL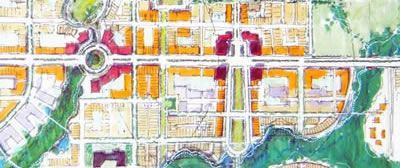 FIVE MINUTE walking DISTANCE


ACCESS TO natural AREAS AND PARKS


LIGHTER, GREENER, CHEAPER, SMARTER infrastructure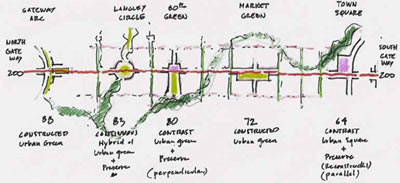 A TYPOLOGY OF nodes
CASE STUDIES
Node:
200th Street, Langley

The Langley Nodes charrette is a collaborative planning and design process that will create a long term, sustainable community vision for the development of four key nodes along the 200th Street corridor.
>> LANGLEY NODES CHARRETTE
DESIGN BRIEF [DOWNLOAD]
node: existing conditions
The study area along the 7 km section of 200 St between Hwy 1 and the City boundary includes four emerging neighbourhood nodes:
- Carvolth: 200 Street and 86 Av.
- Jericho: 200 Street and 80 Av.
- Routley: 200 Street and 72 Av.
- Langley Crossing: 200 St. and 64 Av.
node: 50 year VISION
Facilitate and implement a 50-year vision for a complete, vibrant and sustainable urban community, primarily centred within a 5-minute walk around four compact business, commercial and residential nodes of varying scales, located along the attractive main street – 200th Street – and capable of accepting 25,000 – 37,500 new residents in 13,900 – 20,800 housing units, and space for 15,550 – 22,250 new jobs by 2050.
node: charrette principles
& objectives
GOOD & PLENTIFUL jobs
CLOSE TO HOME

1.

Locate some jobs at every node, but identify key nodes – such as around 64th and 86th avenues at 200th Street – and locate the majority of jobs there.


2.
Use innovative housing types to incorporate living into fob centres, particularly business and industrial areas.

3.

The location, density and type of jobs help define the character of different nodes.

1.

Provide a full range of housing types to suit all income, age and family needs in every node, but emphasize different housing types between nodes.

2.
Expect nodes with new building stock – such as 72nd Avenue at 200th Street – to develop slowly, at first with a small neighbourhood commercial centre with surrounding medium- to low densities.

3.

Locate the most high-density rowhouses and apartments in nodes that are considered important commercial and job areas, and will have rapid development.

4.

Locate point towers only in the highest
density nodes.

MIXED USE corridors
ACCESSIBLE TO ALL

1.

Design each key corridor – such as 200th Street – with an overall identity and to reflect neighbourhood character as it moves through and between nodes.

2.
Envision an at-grade, street-oriented transit system as the heart of 200th Street, and other key multimodal transportation corridors connecting nodes.

3.

Use a Multiway Boulevard and best practices to design pedestrian-scale streets that also function as major commuter and goods-movement routes.

FIVE MINUTE walking DISTANCE

1.

Create an interconnected street and linear park network so living, working, playing and transit are within walking distance of each other.

2.
Provide frequent at-grade crossings of 200th Street and other arterials – a crossing ever 200 metres along Major Arterials is suggested by the Institute of Transportation Engineers.

3.

Well-designed communities have the edges of nodes close to each other, placing many residents within a fiveminute walk of their daily needs.

ACCESS TO natural AREAS AND PARKS

1.

Make natural areas and parks visible and accessible by drawing these features into the community along linear parks and green-streets.

2.
In urban areas, create plaza spaces for people to gather and linger – such as the new civic square at Willowbrook Drive and 200th Street.

3.

Fit development around large contiguous areas of preserved open or natural space – such as around the 80th and 83rd avenue nodes.

4.

Sprinkle many smaller parks and
revitalized natural areas throughout very
high-density nodes – such as 64th
Avenue at 200th Street.

LIGHTER, GREENER, CHEAPER, SMARTER infrastructure

1.

Use corridors and linear parks to collect storm water for infiltration.

2.
Locate biofiltration ponds in parks and around natural areas – particularly creek corridors – to clean storm water as it recharges groundwater and streams.

3.

Design green streets, green roofs and a dense urban forest canopy to reduce the heat island effect.