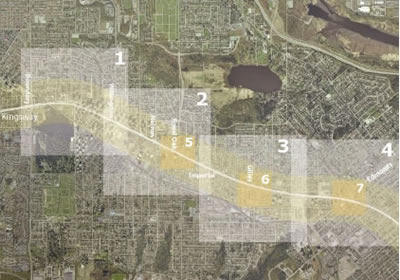 corridor STUDY AREA: KINGSWAY, BURNABY


KINGSWAY CORRIDOR 50 YEAR vision


MIXED USE corridors ACCESSIBLE TO ALL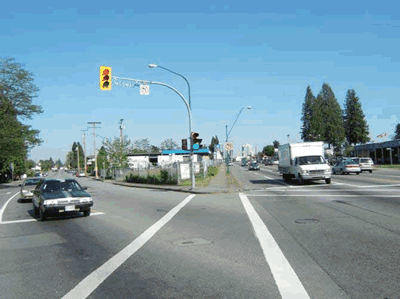 FIVE MINUTE walking DISTANCE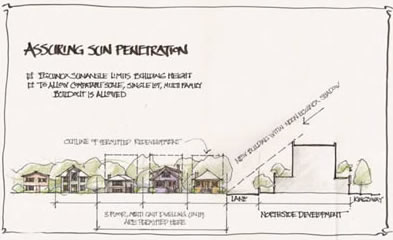 DIFFERENT housing TYPES


GOOD & PLENTIFUL jobs CLOSE TO HOME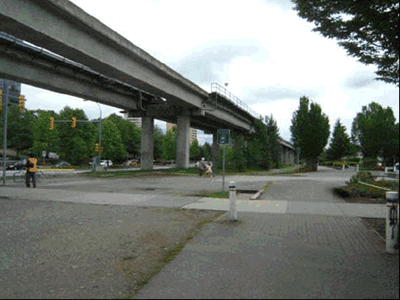 ACCESS TO natural AREAS AND PARKS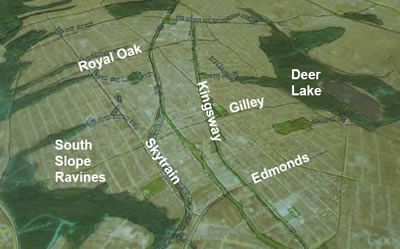 LIGHTER, GREENER, CHEAPER, SMARTER infrastructure
CASE STUDIES
Corridor:
Kingsway, Burnaby

The Kingsway Corridor charrette was a design exercise that integrated collaborative planning and best practices into a 50-year design vision.
corridor: existing conditions
Kingsway in the City of Burnaby, BC is a mature linear corridor, home to two town centres [Edmonds and Metrotown] and one planned village centre [Royal Oak]. Surrounded by low density commercial and light industrial uses, the corridor has experienced community growth exceeding projections. The study area along the corridor is 6.8Km long by 1Km wide.
corridor: 50 year VISION
Design a vibrant Kingsway corridor to:
• Accommodate 50,000 to 60,000 new residents in 20,000 to 25,000 housing units;
• Support and accommodate 16,000 to 22,000 jobs;
• Facilitate the complete, resilient and sustainable development of Burnaby's urban communities by 2050.
corridor: executive summary
The crucial question for this case study was this: Can you take a corridor that has traditionally been a highway used for driving from one city to another, and turn it into a walkable and attractive main street for a sustainable urban community? The charrette team answered this question in the affirmative, but making it real will be challenging.
Of the utmost importance is taming Kingsway without unduly diminishing its capacity for through traffic. The solution for the street proposed would have four moving lanes with a single left hand turn lane. Generally parking would be provided on both sides to buffer pedestrians and provide easy access for patrons. All intersections would have "neck downs" to narrow the crossing distance to a reasonable maximum of +/- 17 meters. Design speeds for the street would be based on a 50 km per hour movement speed, while intersections and crossing points would remain frequent.
With this a a basic framework it would be possible to redevelop the corridor as an urban avenue and a proper setting for the bulk of 30,000 new housing units. Housing types would be separated between 6 story to high rise units at the designated town centres at Edmonds and Metrotown, and four story mixed use commercial buildings (with commercial on the ground floor, neighbourhood office or residential above) on portions between. Auto service commercial would be retained along Kingsway, but would be reconfigured in a format more compatible with a mixed use pedestrian environment.
Space for new jobs equal to the number of new households on the corridor was found and incorporated. Key to the strategy is the preservation of the large industrial district south of Kingsway. The industrial area could also include housing however, if that housing was part of a light industrial or business use building.
Finally, the redevelopment of Kingsway and the adding of billions of dollars worth of new investment provides the capital resources necessary to rebuild the degraded watersheds below the Kingsway ridge. New development can be held to a high standard for low impact to receiving watersheds both to the north and the south of the corridor. Development cost charges can be used to finance the reconstruction of street infrastructure, turning grey streets in into green ones.
>> KINGSWAY CORRIDOR CHARRETTE DESIGN BRIEF [DOWNLOAD]
corridor: charrette principles
& objectives
MIXED USE corridors
ACCESSIBLE TO ALL

1.

A multi-modal transportation network;


2.
Improve connectivity and route choice on surrounding and pedestrian networks.

3.

A multi-modal cross section for pedestrians, cyclists, goods movement, transit, and cars.

4.

Block character and identity for neighbourhood segments.

5.

Kingsway Frontage: Bring buildings to the street.

FIVE MINUTE walking DISTANCE

1.

Compelling, comfortable, convenient five minute walking distance: a full complement of basic services (schools, shopping, transit) accessible to all (400m walking distance).

2.
Enhanced pedestrian qualities and greater connectivity to neighbouring areas.

3.

A walkable, livable urban street with special attractions and public places.

4.

Orient Kingsway buildings so that they address the street. 5 minute Walking distance - Use interesting side street spaces for urban oasis.

5.

Higher density, street fronting
development along Kingsway, with modulated building facades, new public plazas, buildings and uses.

DIFFERENT housing TYPES

1.

Target at least 23,000 new residential units within the Kingsway corridor over the next 30 to 50 years.

2.
Integrate housing into Kingsway corridor redevelopment sites.

3.

Housing above commercial.

4.

Transition with existing neighbourhoods.

5.

Infill housing in existing neighbourhoods.

GOOD & PLENTIFUL jobs
CLOSE TO HOME

1.

A corridor vibrant with mixed uses on its entire length: 16,000 - 20,000 new jobs. Mixed use: commercial office/residential; light industrial / residential.

2.
Dense urban centres at Metrotown and Edmonds to attract and concentrate office uses.

3.

Retain existing businesses while improving Kingsway street frontage and integrating mixed uses.

4.

Protect industrial lands at Royal Oak by creating opportunities for expansion and intensification of uses.

ACCESS TO natural AREAS AND PARKS

1.

Celebrate the 'Kingsway Ridge' by connecting and integrating green spaces on the ridge to stream and riparian areas.

2.
New parks to be provided within 400m walking distance of every citizen.

3.

A green street network featuring trees and planted boulevards for shade, transit stops, street crossings and public gathering.

4.

Upgrade and improve existing greenspaces to create attractive, usable civic places.

LIGHTER, GREENER, CHEAPER, SMARTER infrastructure

1.

Green streets and green spaces.

2.
Provide rainwater and stormwater treatment for parks, open spaces and streets, including swales in centre medians, rain gardens at curb bulges and porous asphalt and concrete.

3.

Treat rainwater on-site wherever possible.

4.

Integrate green roofs, water infiltration and detention, greywater recycling into new developments, as part of a comprehensive green infrastructure network.

5.

Green buildings to reduce energy loads.